Sheriff Joe Sedinger is a Man in Pink Patrolling for a Cure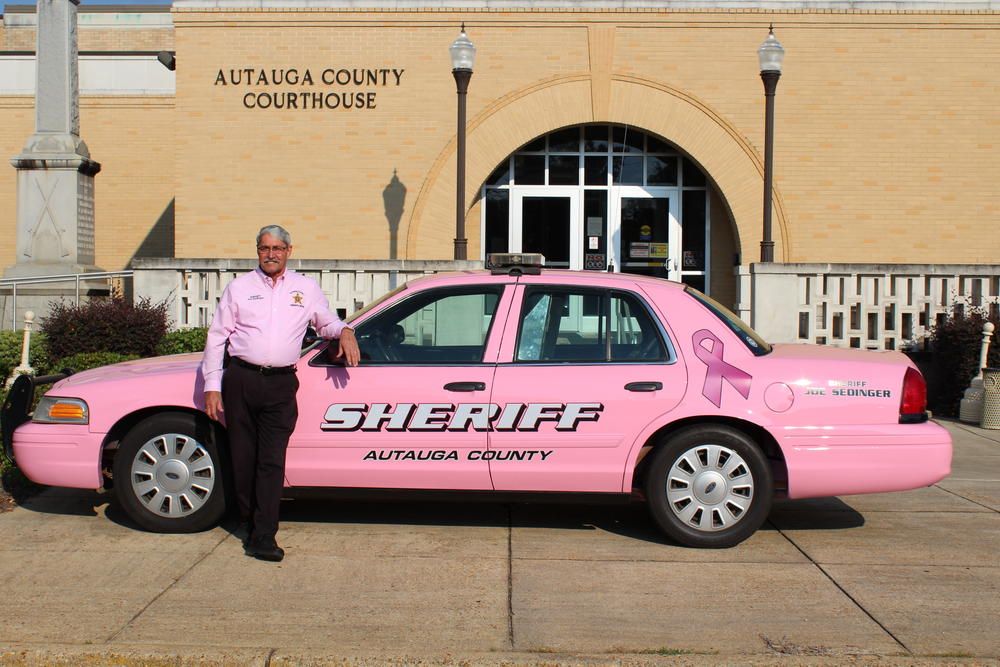 October is Breast Cancer Awareness Month! To help raise funds for lifesaving research and patient assistance, Sheriff Joe Sedinger decided to become one of Autauga County's Men in Pink. This fundraiser is hosted by the Relay for Life Autauga County for the American Cancer Society. "Cancer, including Breast Cancer, has touched my family in many ways so that is why I decided to become one of the Men in Pink." Sheriff Sedinger stated. My motto is "Patrolling for a Cure".

Sheriff Sedinger is so honored to be a member this year, that he had one of his patrol cars painted pink! The Pink Patrol Car, when not on display at the Autauga County Sheriff's Office, will be seen driving all around the County. "I will have deputies assigned to drive this car in their assigned districts during the month of October." Sheriff Sedinger said. "We will also have the car on display during National Night Out on October 3, 2017."

Sheriff Sedinger has set a goal to raise $500 during the Real Men Wear Pink Campaign, which runs the entire month of October. To accomplish this goal, we will be selling pink ribbons for $1 to display on our "Pink Wall" at the Sheriff's Office. If we can raise the most money in our county, The Sheriff will be named Autauga County's Man in Pink 2017! Ribbons will be available the entire month of October and can be purchased in the Sheriff's Office lobby. You can also donate to this cause by dropping off an envelope labeled "Real Men Wear Pink" in dispatch with your donation inside. Any amount helps!

The Sheriff's Office is located at 162 West 4th Street, in Prattville. Don't forget to visit the Pink Patrol Car at National Night Out on October 3rd, from 6pm until 8pm.