Autauga Metro Jail
AUTAUGA METRO JAIL
136 N. Court Street
Prattville, AL 36067
(334) 361-2600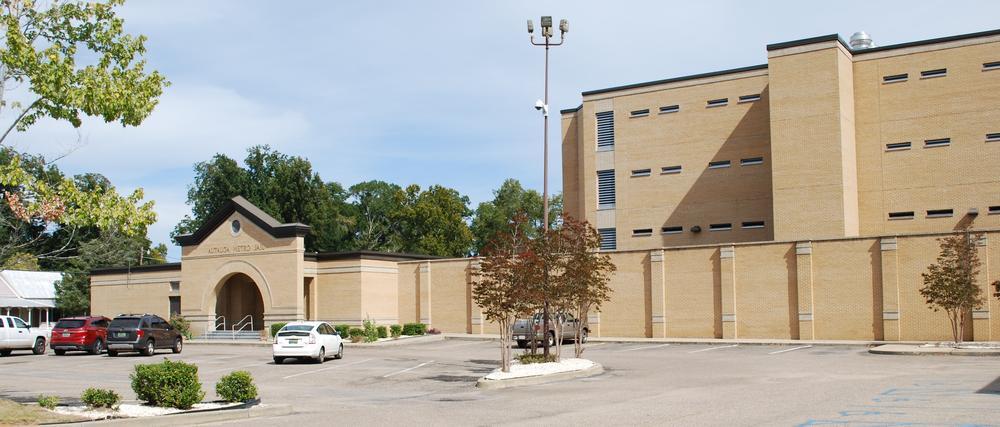 The Corrections Division of the Autauga County Sheriff's Office is responsible for housing incarcerated persons who are awaiting trial, or have been sentenced to serve time in the county facility. The Autauga Metro Jail also houses inmates arrested by the county's municipal police departments as well, including the City of Prattville and Town of Autaugaville.
The Corrections Division processes approximately 3400 inmates in and out of the jail annually, and maintains an average population of 160. There are 39 staff members assigned to the Metro Jail. The staff, headed by Jail Warden Captain Larry Nixon, is dedicated to providing a safe and secure environment for inmates, as well as for visitors to the facility. It is our goal to treat everyone in a respectful and professional manner.
INFORMATION FOR FAMILY/FRIENDS OF INMATES

An inmate is allowed three (3) white t-shirts, three (3) pairs of white socks and three (3) pair of white underwear. Female inmates are also permitted three (3) sports bras. If there is any wire in the bra, it will not be accepted. These items may be dropped off at the front desk, provided the inmate has been in the Autauga Metro Jail less than seven (7) days – including weekends and holidays. All items must have inmates name written in permanent ink on each piece. If the inmate has been here longer than seven (7) days, he/she must purchase these items from the commissary.
All personal hygiene products must be purchased from the commissary. If deemed indigent inmates are accommodated with an indigent package.
Commissary money in the form of a money order is accepted at the front desk from 8am – 12pm and 1pm – 5pm Monday through Friday (no exceptions), or may be mailed to the address above. You may use cash or credit/debit cards at any time by using the ATM machine located in the front lobby. The fee for the use of the ATM is $1.50 per transaction for cash and 10% fee for credit/debit cards. Commissary money can also be added to an inmates account at any time using www.correctpay.com. Select Start Deposit, Choose the United States, Alabama then Autauga and look up inmate by name. This service is available 24/7/365.
Bibles and other reading material will not be accepted, as they are donated by area churches. Books for inmates can be ordered and shipped from Book-A-Million or Barnes & Noble. When ordering books they must be shipped only by the company. Books CAN NOT contain Gang affiliation, or Sexual content. Only two books a month are allowed per inmate.
All inmate correspondence must be sent through the U.S. Mail with a complete return address to:
Autauga Metro Jail
(Name of Inmate)
136 N. Court Street
Prattville, AL 36067
If the envelope does not have a complete return address and the inmate cannot provide one within three (3) days, the envelope and contents will be shredded. This also pertains to pictures. Inmates may have no more than five (5) pictures total in his/her cell at any time. Pictures received after the limit had been reached will be rejected and the mail will be returned to sender. Letters/cards with a picture copied onto it, pictures on copy paper and pictures with inappropriate clothing or pose will be returned to sender. If pictures are received under one inmate for another inmate, the pictures count against the inmate in which the pictures were mailed to. Mail that has been written in colors other than blue or black ink, or pencil will be rejected. Cards and letters that have glitter, recordings, markers, crayons, lipstick, lip gloss, perfume, stickers, highlighters, white out, copies, cash, personal checks, extra stamps, extra envelopes, extra paper, paper/booklet clippings and magazine pages or clippings will be rejected.
If you are having trouble receiving calls from an inmate, or wish to block calls, check with your telephone service provider, AMTEL 1-800-849-6081, or contact the Jail Administration (334) 361-2600. Telephones in the inmate pods ARE NOT set up for incoming calls.
VISITATION INFORMATION

Visitors should sign in 15 minutes prior to visit. No one under the age of 16 is allowed to visit inmates. You MUST be on the inmate's visitation list (changed on the 1st day of the month) and have a valid picture ID with your date of birth on it in order to visit. NO ID…NO VISITATION! NO EXCEPTIONS!!!
Saturday Visitation Schedule
| | |
| --- | --- |
| POD 5 | 8:30 a.m. - 9:30 a.m. |
| POD 6 | 9:30 a.m. - 10:30 a.m. |
| POD 7 | 10:30 a.m. - 11:30 a.m. |
| POD 8 | 11:30 a.m. - 12:30 a.m. |
| Isolation/Holding | 12:30 p.m. - 1:30 p.m. |
Sunday Visitation Schedule
| | |
| --- | --- |
| POD 1 | 11:30 a.m. - 12:30 p.m. |
| POD 2 | 12:30 p.m. - 1:30 p.m. |
| POD 4 | 1:30 p.m. - 2:30 p.m. |
| POD 3* | 2:30 p.m. - 4:00 p.m. |
(*Inmate Workers Scheduled Visitation)
Inmates in general population are permitted one (1) thirty (30) minute visit during the appropriate time. Each inmate is allowed up to four (4) visitors. Family and friends are urged to coordinate the time they plan to visit. Once the inmate has been up for his/her visitation, they will not be permitted another visit and the inmate's visitation time will not be extended for family/friends that arrive late. Visitors who have been convicted of drug charges and were incarcerated at the Autauga Metro Jail for that conviction are not allowed to visit with any inmate. Persons who have been incarcerated in the Autauga Metro Jail or currently on probation will not be allowed to visit for 5 years from the date of the conviction or incarceration, (active probation NOT allowed to visit).
When in the visiting area inmate family and friends must stay in the station of the person they are visiting. VISITORS ARE NOT ALLOWED TO GO FROM ONE STATION TO ANOTHER!!! If this happens you will be asked to leave and not be able to visit your family or friend again while they are incarcerated in the Autauga Metro Jail. CELL PHONES AND CAMERAS ARE PROHIBITED INSIDE THE AUTAUGA METRO JAIL. If you are found in possession of one you will be banned from the Jail, asked to leave and will not be allowed to visit anyone incarcerated in the Autauga Metro Jail.
Video Visitation is now available at the Autauga Metro Jail as of Monday 1/24/2022. You can now visit your loved one from the comfort of your home. To set up an account go to www.correctpay.comcom. You can also download the CorrectPay app in Google Play Store or the App Store. Once you download the app, select "Schedule Video Visit" and then select the facility where the inmate is located. Fill out the registration form and schedule a video visitation with your inmate.
ATTORNEY VISITS

Attorneys are authorized to enter the Autauga Metro Jail to visit their clients in a designated area. In order to better conform to the schedule of the Autauga County Jail, the approved times for attorney-client visits in the Autauga County Jail will change effective March 1, 2017 as follows:
Attorney-Client Visitation Times
Monday - Friday
8:00 a.m. to 12:00 a.m. and 1:00 p.m. to 4:30 p.m.
An attorney who represents a client on a case may visit with their client in the Autauga County Jail. You must be the Attorney of Record or have filed a notice of appearance prior to seeing the requested inmate that you are representing. The jail staff will verify all attorneys through the appropriate clerk's office. All attorneys must give 24 hour notice to schedule a contact visit with their clients. You must contact clerk's office for case numbers.
All Attorneys must show a valid government issued identification card and a valid Bar Card showing their ASB number prior to entering the Jail. Attorneys will not be granted access if their Bar Card is not up-to-date.
PROHIBITED ITEMS IN PRIVILEGED MAIL
Recently there have been some issues regarding "Privileged Mail" sent to inmates at the Autauga Metro Jail. Please adhere to the following rules to ensure the prompt delivery of any privileged mail sent to the Autauga Metro Jail.
Privileged mail is defined as correspondence between an inmate and their attorney of record.
Privileged mail may be sent in an envelope no larger than 12" x 9". Any envelope received which is larger than 12" x 9" will be returned to the sender. No metal or plastic fasteners shall be attached to any of the papers sent in as privileged mail. Fasteners are contraband items and jail staff will not remove fasteners of any sort. Mail, which has fasteners attached, will be returned to the sender. Fasteners include, but are not limited to, plastic or metal paper clips, staples, binder clips, etc.
Inmates cannot receive writing material as "Privileged Mail." Writing materials include, but are not limited to, blank writing paper of any type, writing utensils of any type, stamps, envelopes, self-addressed stamped envelopes, etc. Indigent inmates are provided writing materials and inmates with commissary funds must purchase their own writing materials.
Please contact the Autauga Metro Jail (334) 361-2600, if you have any questions regarding inmate privileged mail.
WORK RELEASE PROGRAM
The Sheriff of Autauga County authorizes the Autauga Metro Jail to run an inmate work release program. An inmate on work release and an approved employer under the Autauga Metro Jail work release program must abide by the following rules:
Inmate will be picked up no earlier than 6:00 am and will be brought back by employer no later than 6:00 pm. The employer representative who signed the inmate out must come and sign the inmate back in.

Inmate will be on the job site at all times and must be supervised by a company employee of good standings. The employer must furnish the Booking Office at the Autauga Metro Jail the location, contact person and telephone number for each day of employment. Inmates are not allowed to work outside of Autauga or surrounding counties in Alabama.

The employer is responsible for the inmate while signed out on work release. This will include all civil and criminal liability, and medical needs.

The employer or work release inmate is responsible for furnishing work clothes, protective clothing, safety equipment or any other items that may be needed on the job.

Work release inmates are not allowed to visit with family or friends while on a job, and will not come in contact with any of their criminal victims in any way.

Inmates will be paid weekly the minimum Federal wage for every hour they are on the job. Paychecks must be made to the Autauga County Work Release. Autauga County will retain 20% of earnings and the inmate will receive the remainder. Work release inmates will use money earned to pay fines, costs and restitution. If it is found that this money is not being spent on fines, said inmate is subject to be taken off work release.

Inmates will not drive any vehicle on public roadways!

All inmates must be accounted for at all times. If an inmate escapes or leaves a job site without supervision, employer must notify the Booking Office at the Autauga Metro Jail IMMEDIATELY!

Work release is a privilege and not a right! Approval for work release shall be at the Jail Warden's discretion. The Warden retains the right to take inmates off of work release.
Work release inmate will not have contact with or consume alcohol or drugs of any kind. If a work release inmate is caught with contraband, a warrant will be issued.
Work Release Inmates are subject to random alcohol and drug screenings. If positive results, inmate will immediately be taken off work release and locked down with the general population until inmate is released or transferred to another facility. NO SECOND CHANCES WILL BE GIVEN!!!!